About Us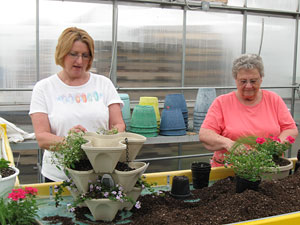 Tom Strain & Sons and Daughter Too is a name that reflects the history of our family farm. The farm was founded more than 200 years ago by Hugh Strain (1st generation). Today it is still in the family after 5 generations, and most of the family still work on the farm.
The farm market was started by Hugh's son, Patrick Anthony Strain (2nd generation) and his wife, Nellie. They set up a roadside market next to their house on Hill Avenue.
Patrick and Nellie had 8 children, and the oldest, Thomas Anthony Strain (3rd generation) continued the farm business.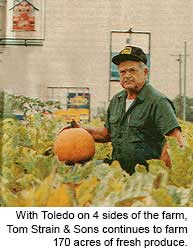 Thomas married Marian, and they had two children, Thomas Edward Strain (4th generation) and Mary Ann Strain (4th generation).
Thomas, known as Tom Jr., married Sharon in 1958. Their four children, Thomas III, Gary, Becky and Laurie, are the fifth generation of the Strain family to farm this land. You'll meet all of them on the farm at different times, although Tom Strain III, Gary and Becky are there full time throughout the year.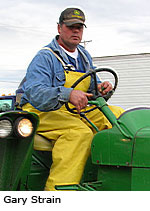 Tom III is our accountant and takes on duty as head grower with Gary during our greenhouse season, but their passion lies out in the fields. Gary and his father, Tom Jr., are the chief planters.
Gary's wife Rose works in the market and greenhouse. They have 3 children, and 5 grandchildren.
Becky Strain has been back with the company for 26 years and runs the retail and potted/basket division of the greenhouse. Sister Laurie and husband, Jim work when needed to help with the busy season.
Sharon, Tom Jr's wife is always around at a register or doing paperwork and waiting for someone to say "MOM! We need help!"
It all gets pretty confusing, but basically, everyone pitches in where they can, and sooner or later, you'll find every one of us with a hose in hand watering the plants. And whenever something goes wrong, we just say "it's Tom's fault." By the time anybody figures out which Tom, we've had a good laugh and move on!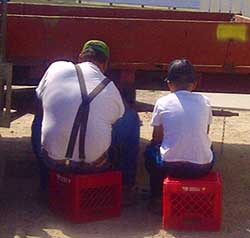 Many of the grandchildren have grown and are in college now, or have graduated college. Some of the younger kids have started working on the farm for a few extra bucks.
James & Christopher (Laurie's Children) help out in the market on busy weekends. Austin, Gary's oldest grandson, works all summer and weekends with his Pappa and Pappa Tom. Paige (Gary and Rose's Granddaughter) has started to help in the retail market.

Our success did not happen over night or without a great deal of hard work, long hours, years of dedication, and our valuable employess. A few years back we lost one of our own, Mary Ann Strain is still missed daily.